Merlin Residency Tonk Road NH 12 Jaipur - Jaipur
Monday, 2 June 2014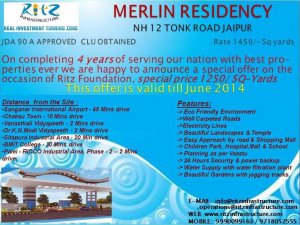 Contacts

sulekha

9718052555
Item description
MERLIN RESIDENCY
Sajiya Road, Gunsi, Chaksu Town, Niwai, NH-12, Tonk Road, Jaipur (Raj.
Merlin Residency is a Premium Residential Township spread over 53 Bighas of Land and it is JDA, 90-A Approved (Govt.Approved) project with Immediate Registry. Plot Sizes are from 100 to 500 Sq Yards with Basic Rate of 1450/- per Sq Yards only. Project is located on NH-12, Chaksu Town, Tonk Road near Vanasthali Vidyapeeth, Jaipur (Raj.
WHY TONK ROAD - NH-12 ?
1.The Tonk Road (NH 12) on which Merlin Residency is situated is a single two way road now. It is going to converted to four lane. The project of converting it into four lane has already been PPROVED AND NECESSARY SANCTIONS have been taken from relevant government departments too. Refer Dainik Bhaskar 5th May 2008 page No. 6.
2.JDA is in process to develop an "Entry Plaza" on Tonk Road near to Merlin Residency. This will add to the habitation and will give a boost to the tourist activities nearby. This will important to mention that Entry Plaza is coming up at Delhi Road and Tonk Road. Refer Dainik Bhaskar 16th July 2008.
3. JDA has already proposed an International Airport near to Merlin Residency. This has been viewed as a substitute for International Airport at Delhi. This will help in improvement of infrastructure and supportive aids adjoining locations. Refer: Rajasthan Patrika, Dainik Bhaskar dated 15th April 2008.
4.Rajasthan Housing Board is going to acquire 16000 Bighas of land near Shivdaspura very near to Merlin Residency for one of its ambitious Housing Project "Jhujharpura". This has been considered as one of the biggest projects of Rajasthan Housing Board. This help in enhancing the habitation as well as the value of land in adjoining locations. Refer: Rajasthan Patrika 18th March 2008.
5.JDA auctioned a chunk of land for a 5 star hotel purpose just across the road in October 2007. JDA kept reserve price of Rs. 6000 per sq meter.
6.Rajasthan University, SMS Medical College, MNIT, SMS Medical College, Passport Office, SMS Stadium, Jaipur Nagar Nigam, JDA, Town Planning Office, Jaipur Dairy, Jhalana Institutional Area, RBI, SBI, Pashu Bhawan, Jaipur Stock Exchange and many other big Government Intitutions are situated either on Tonk Road or JLN Marg running parallel\el to Tonk Road.
7.The proposed Ring Road Project will provide an easy and fast access to all major roads connecting Jaipur without entering into Jaipur City.
8.Jaipur: Tonk Road within the urban area of Jaipur city is an important arterial road. This commences from Yadgaar intersection near Ajmeri Gate on Mirza Ismail Road and connects Rambagh Crossing, Gopal Pura, Durga Pura, Sanganer, and continues Till Tonk.
It further connects newly developed residential colonies like Partap Nagar. This road easily be stated as backbone of jaipur city as this is the oldest developed road and literally devides Jaipur in two parts on both sides of Tonk Road. Most of the development Jaipur has started on Tonk Road and then speed to other side of town. Currently lot of the devolvement is taking place at Tonk Road at South of Jaipur. With developed Sitapura EPIP, SEZ and developing projects like Sahara City coupled with other group housing projects in vicinity Tonk is already a favorite investment destination.
With upcoming Ring Road project and Metro Rail project in Jaipur the investment made in Jaipur Real Estate is bound to grow. Tonk road being the hottest destination given its connectivity to Jaipur, availability of running local city transportation, upcoming big projects will surely help investors getting bigger benefits in time to come.
WHY TO INVEST IN MERLIN RESIDENCY ?
Features
•Eco Friendly Environment
•Well Carpeted Roads
•Electricity Lines
•Beautiful Landscapes & Temple
•Easy Approach by road & Shopping Mall
•Children Park, Hospital, Mall & School
•Planning as per Vaastu
•24 Hours Security & power backup
•Water Supply with water filtration plant
•Beautiful Gardens with jogging tracks.
Merlin Residency is surrounded with Biggest Educational institutes like
•Sikkim Manipal University (Asia's biggest SMU Campus
•Vanasthali Vidyapeeth ( University
•Dr.K.N.Modi University
•Jagannath University
•BMIT College
•Global Technical Campus
•Asian Institute of Technology
•Jyoti Vidyapeeth
•Sharda Madhyamik Vidyaniketan
•JIMS University
Distance Chart - from the Site
•Sanganer International Airport - 45 Mins drive
•Chaksu Town - 10 Mins drive
•Vanasthali Vidyapeeth - 2 Mins drive
•Dr.K.N.Modi Vidyapeeth - 2 Mins drive
•Sitapura Industrial Area - 20 Min drive
•BMIT College - 30 Mins drive
•Palei - RICCO Industrial Area, Phase - 2 -- 2 Mins drive.