Summer Internship for B. Tech in Jaipur - Jaipur
Tuesday, 28 April 2015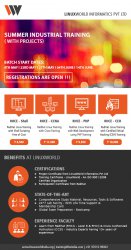 Contacts

Preeti daga

9351009002
Item description
A new way to spend your Summer!

LinuxWorld informatics Pvt. Ltd is a RedHat Awarded partner and Cisco Learning Partner. We are an ISO Certified Company and dedicated to offering an inclusive blend of commercial and resourceful training programs. The programs will meet the demands of today's industry.

For past 12 years now, our company has successfully built its own castle. We offer an integrated portfolio of high end Linux and open sources Technology. We also provide Security services and support groups. Our company is well known by its name Linux Training in Jaipur.

We are specialized in providing training to the students in all the major computer related courses. Our utmost demand is to meet the aid of recent computer technologies. We deal with students from various streams like B. Tech, M. Tech., BCA and MCA.

There are many students who waste their summer season indulging in fun-filled activities. We believe that these vacations are important for gaining some knowledge related to your field. This will make the chances of acquiring a job even in a better way. We offer a short term duration program of Summer internship for B. Tech students. And by this we make sure that they have all the necessary information when it comes to conceptualizing IT fields. This program targets on nurturing the technical skills of all the students. Programs like Cloud Computing, Bigdata Hadoop, RHCE, OpenStack, Wordpress, CCNA, Python, web development, shell scripting and Perl scripting are offered by us.