Vastu consultant for factory by peeyush vashisth - Jaipur
Monday, 12 December 2016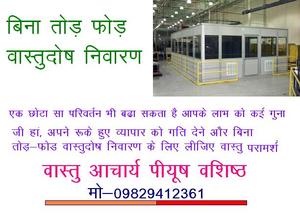 Contacts

peeyush vashisth

9829412361
Item description
Vastu is meant for house, factories, offices, etc., and its coinciding charm on your life and its values & principles are recognized for making a harmony amongst the instinctive factors of earth, water, fire, and environment. If it is not considered during construction, then it may leads to less productivity, loss in business and labour problems.
So, factories and various other commercial properties need special attention during construction and must be safe from any Vastu dosh. So, it becomes essential to go for Vastu Consultancy Services, in order to bring prosperity and rapid growth in terms of money and production.
Many clients have been following Vastu Tips nowadays and they believe that it helps in their business growth and productivity. In order to balance the functioning of Factories in a well proper way, it becomes very essential to choose a trustworthy Vastu Consultant that can help you in attaining great success and positive energy.